Kitchen Aid
【KitchenAid】3.5 Cup Food Chopper 5KFC3516B
Regular price
Sale price
HK$780.00
Unit price
per
Sale
Sold out
Enjoy 3% cash back paying by cash / bank transfer! Contact us for details!
以現金或銀行轉帳付款將享有額外3%回贈!詳情請與我們聯絡!
Share with your friends
Dimensions

Width: 178 mm

Height: 222 mm

Depth: 143 mm
Delivery & Pick-up

Small items & accessories (<5kg)
- HK$35 per order, locally shipped by SF Express within Hong Kong.
- Possible to ship to lockers.
- Possible to pick-up at our showroom.

Small appliances shipped by supplier
Cost may vary on different brands/suppliers. We try our best to implement all conditions in our system and update the cost when you are checking out, but in some cases might not be possible. Please accept some minor adjustments might occur after order confirmation.

Built-in appliances / Large Furniture
Free of charge for basic delivery. Extra delivery cost may apply to outlaying island, Discovery Bay, or any less accessible area. Labour cost for delivering over staircases has to be quoted separately.

Removal of Existing Appliances
Extra cost might apply on some brands/suppliers. Contact us for more info.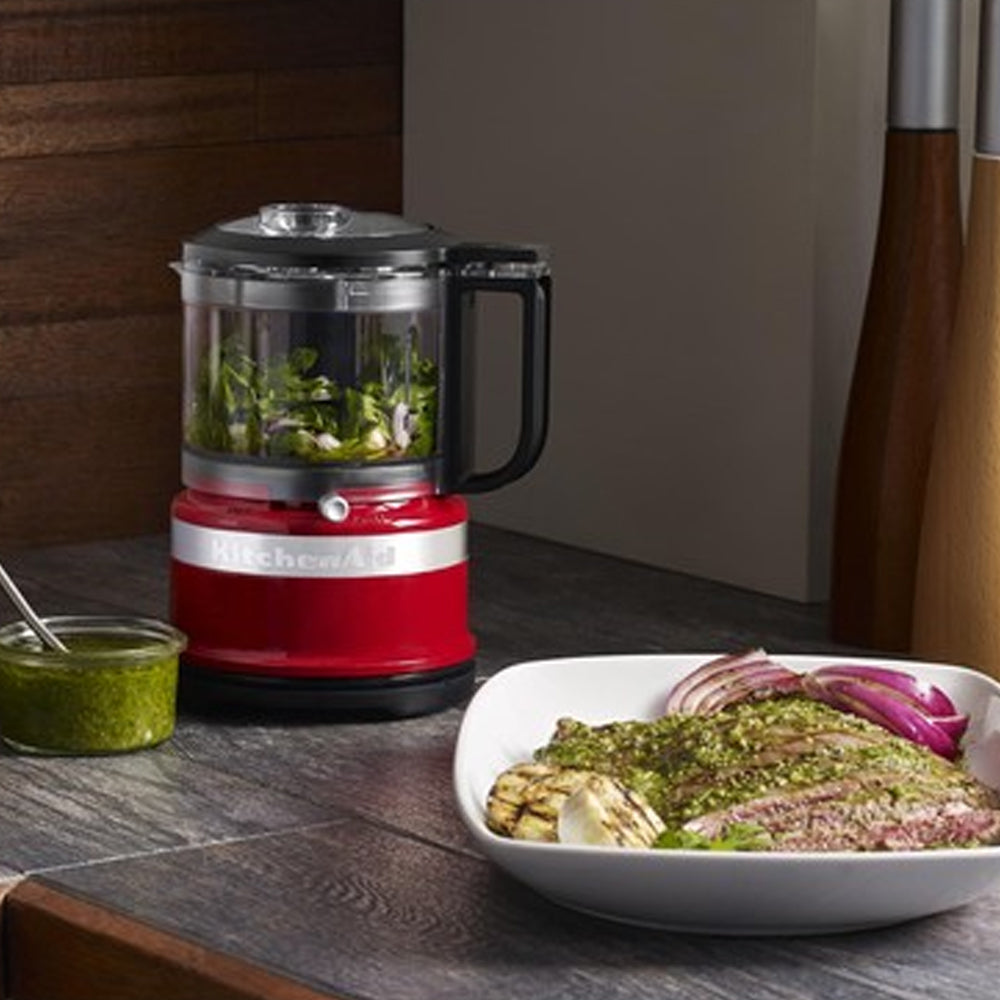 Product Details:
Mini food chopper is a big help
Forget spending ages chopping and puréeing your ingredients. A compact and powerful food chopper does all the hard work for you. With an 830ml work bowl, the KitchenAid mini food chopper is the ideal size for everyday use. You can leave it out on the countertop so it's there whenever you reach for it.
 
Your quick route to salsas, vinaigrettes, sauces, pancake mix, hummus and dressings, it's a real time saver. You can use your mini food chopper for small volumes and small tasks. Make the basis of all kinds of nutritious homemade meals and even grind meat or make breadcrumbs in it. It's like having a helper.
Quickly chop, mix and purée
It's much easier to have a healthy diet and make your food from scratch if you have a compact food chopper that's fun to use.
The multipurpose stainless steel blade on our mini food chopper can chop fruits and vegetables, nuts and boiled pulses, as well as mince parsley, chives or garlic.
You can also throw in cooked fruit and veggies to create an instant purée. Just make sure you cut larger ingredients into chunks of about 1 inch or less (2.5 cm). When you're ready, move the switch to the 'chop' or 'purée' setting and off you go.
Mini food chopper for coarse or fine results
The two speed options (chop or purée) and pulsing action mean you can control the result and get coarsely or finely processed food. It's designed to allow you to use it with one hand. You'll feel like a pro.
Simple to use
Press the black circle on the lid to start the mini food chopper. There's a multipurpose blade which locks into place. While it's working, you can add liquid ingredients like oil. When you're ready to serve your creation, there's a handy pour spout and handle.
Easy to store
The compact, lightweight design means it won't take up much space in the cupboard or out on the countertop. The multipurpose blade and other accessories fit neatly inside the bowl and the cord wraps underneath for tidy storage.
Quick to clean
You'll want to use the mini food chopper every day so we've made it easy to look after. The bowl, lid, and accessories are dishwasher-safe. Just wipe the base with a damp cloth when you've finished.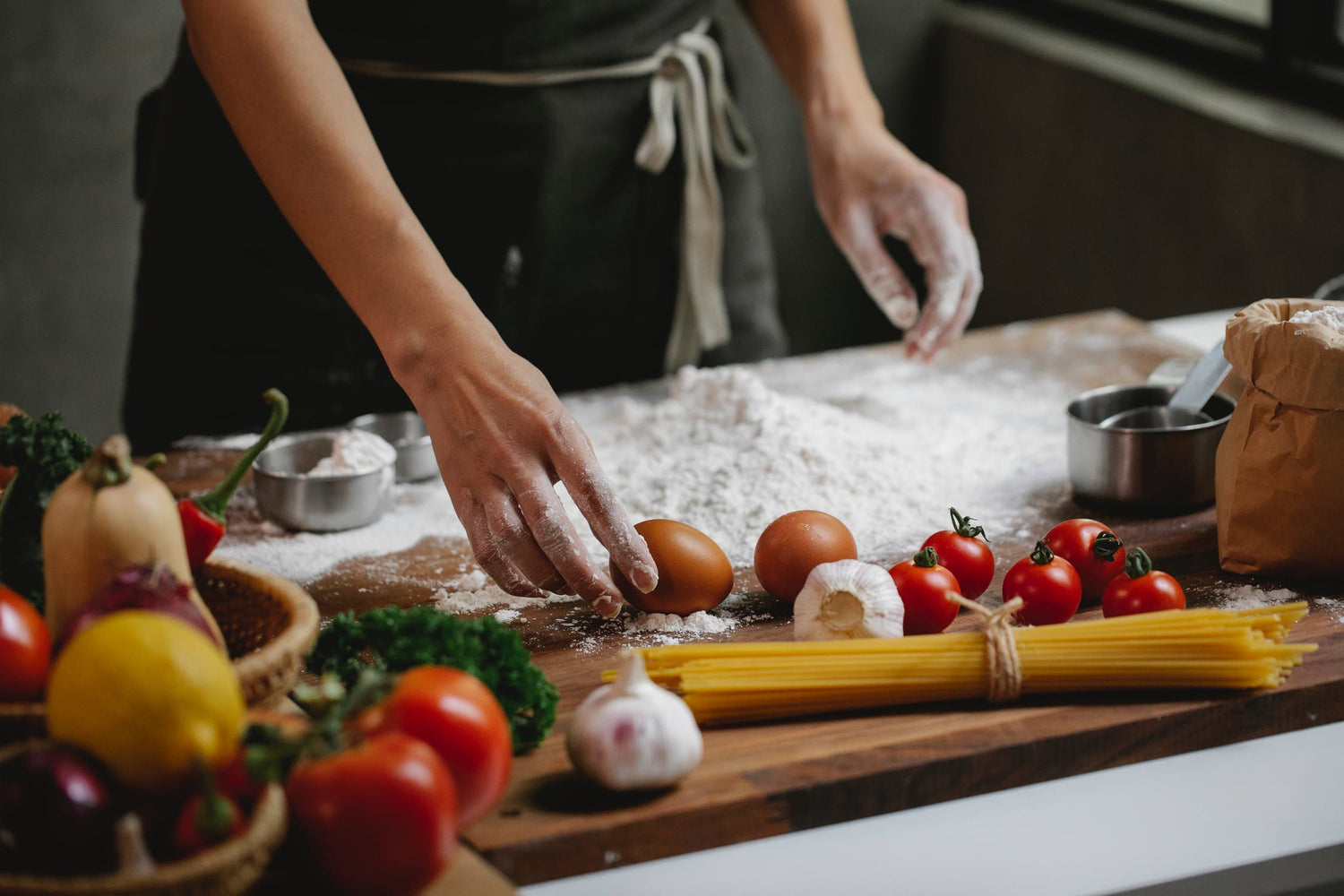 Want a new kitchen?
Our professional kitchen planners are ready to sit down to discuss your needs and cooking routines.
Make an appointment for a showroom visit and understand more!
BOOK NOW